Lluvia Lawyer Aby
(License #1902) is a massage therapist who blends Deep Tissue, Swedish, Visceral-Somatic Shiatsu, Treager and Polarity in her work. She also use the energies of Reiki and Aka Doa. Her specialty is Core Synchronism which is a deeply relaxing, safe and gentle bodywork method. 'Core' is based on the philosophy of natural therapeutics, cranial osteopathy and polarity therapy combined to form a new approach. It works by balancing the tissues, bones,organs and fluids of the body with the energetic self thus bringing the person back into a stronger, more centered state where healing takes place naturally. Lluvia enjoys working on children and infants as well as adults.
505-689-2641
Maria Chilton
(License #1830) has been a Massage Therapist since 1995. Her forte is her ability to spontaneously incorporate various modalities to suit the individual's needs in the present moment. The techniques she calls upon include traditional Swedish massage, deep tissue, polarity therapy, shiatsu, Reiki, reflexology and cranio-sacral. For the past ten years Maria has made hot stone massage a specialty. "Bodywork is an art form. The client is the canvas while the body worker's hands, heart and intuition are the medium. The healing experience is the finished piece." Maria is also the owner and operator of
Little River Remedies
, a small herbal apothecary.
505-579-4321
mariachilton@hotmail.com

Valerie Gonzales is from San Diego, CA and graduated from United Educational Institute in 2007.  She moved to Northern New Mexico in 2013 with her husband.  She specializes in deep tissue massage and have experience in prenatal massage, geriatric massage and Swedish massage. As a mother, wife and massage therapist her goals are to help her family and community live healthier lives.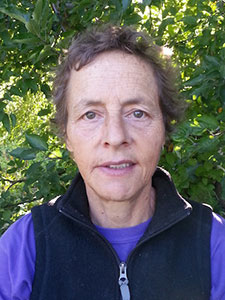 Sarah Grant
(License #1038) practices a Japanese Acupuncture in the style of Kiiko Matsumoto. This style involves gentle touch of various areas, predominantly the abdomen, to get information about where to place needles. The needles are thin, and inserted to shallow depths, making the treatments quite painless. Treatments last 1 to 1 ½ hours. Acupuncture is good for a variety of bodily imbalances including pain, headache, insomnia, allergies/asthma, fatigue, hormonal issues, and autoimmune disorders. Acupuncture treatments can be used to maintain good health with no negative side effects!
505-992-1963
sarahg@farmersmarketsnm.org
Cathy J. Robison
, (License #6599) is a licensed massage therapist who offers anatomy based therapeutic massage for health. Often times when recovering from injury or insult it is a challenge to sense the inherent health of our bodies. Through therapeutic touch, Cathy helps access states of relaxation that resource our creative connection. Holistic restorative services include nurturing massage, deep tissue massage, and reflexology.
505-670-6124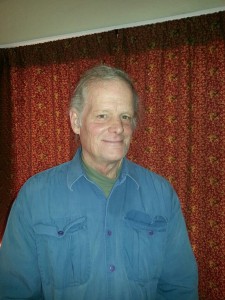 Roderick Oknich,  offering Acutonics©, Sound as Healer
With the use of tuning forks on the meridians, to stimulate points, as used in acupuncture and acupressure, Acutonics© helps one to wholeness and well being. The forks bring the archetypes of the planetary bodies into play. The forks are tuned to the " Music of the spheres" a Pythagorean term. Each fork is tuned to a planetary body, planetesimal, sun or moon frequencies. The forks are chosen, according to their energy to create balance in the meridians.
Throughout history humans have been utilizing sound. In listening to the music we hear, some energizing, some uplifting, others depressing and then there is Acutonics© for healing.
Roderick will be available at the Carnelian Center on Sundays and Mondays Call for an appointment.
575-613-3245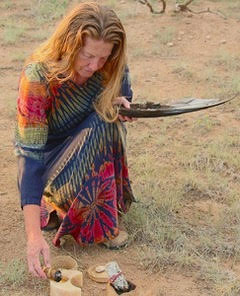 JoAnne Dodgson
With over 30 years of experience as a healer and teacher, JoAnne Dodgson offers guidance to transform the ways we live and relate with ourselves, each other, and the earth. Since 2000, she has been living and learning the kala keh nah seh lineage of Ka Ta See, a tradition from the Eastern Andes. A healer and teacher of these ancient medicine ways, JoAnne offers spiritual counseling, Bone Throws, traditional energy balancing, spirit journeys, and community ceremonial gatherings. JoAnne holds a doctorate in Counseling Psychology with a specialty in Holistic Health. JoAnne is writing and illustrating Spirit of Chocolate: A Woman's Journey to the Rainforest in Search of Her Dreams. She has self-published several books including UnLeashing Love, Gifts of the Grandmother, and MoonDance Journal. More information on her website: www.joannedodgson.com. To schedule as session, email or call.
505-579-0074
joanne@joannedodgson.com